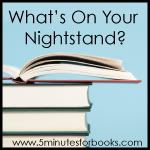 I missed the
5 Minutes For Books
carnival yesterday. I had planned to post but my day just got away from me and the evening went by even faster. Better late than never, huh?
I managed to read 4 books last month:
Rebecca
by Daphne Du Maurier; it was voted the Best Novel of the Century by a Mystery Writers Convention and I wouldn't argue with that title. It was filled with vivid descriptions and made me think about
my own struggle with insecurity
. (I don't really write "reviews" of books, but sometimes record what they cause me to think on or examine in my own life.)
The Beach House
by Jane Green; it was a quick and fun read that kept me turning the pages. Even though most of the plot was very predictable, the author did such a good job of introducing the characters that you enjoyed spending time with them. Believable? No Enjoyable? Yes, it was a nice escape. As one of the characters says at the end of the book, "To new beginnings and happy endings"...that is exactly what the book is about.
1st To Die
by James Patterson; his first in the Women's Murder Club series. This book was a page turner for sure. And the plot twist at the end was pretty good. (Not
The Thirteenth Tale
good, but satisfactory.) Having said that, I don't think I will read the rest of the series. The murders, though not overtly graphic, were disturbing in their descriptions and I, personally, have a hard time with it. (That's is why I do not watch
Law & Order: SUV
)
Sisterchicks Go Brit
by Robin Jones Gunn; this book reminded me a lot of our Grandmas Gone Wild trip to New York in 2008. Two friends go to England on the trip of a lifetime and enjoy some great surprises along the way. I couldn't help but compare it to our 'snow day' surprise in Central Park and how something so unplanned (who can plan the first real snow of the year?) was our favorite part of the whole trip. My favorite quote, "...do you know what the dearest kindness is that a woman can offer herself in the autumn of her years?...It is the gift of giving herself permission to take risks." Amen!
These are still on my nightstand:
Where Are You Now?
- I will probably be picking this up in the next week or so to get myself back into the NY vibe. Oh, I didn't tell you? I have been given the opportunity for another visit to the Big Apple! I am so excited!
The Secret Life of Bees
- I am thinking of putting this one in my car to read while waiting for Will to finish football practice or to take with me into waiting rooms. It looks like a quick read. (I got this idea from a post by Laura at
Laura's Imperfect Blog
.)
And I added only one book this past month, which I am currently reading:
Idols Of The Heart
by Elise Fitzpatrick; this one caught my eye while I was ordering the classic Hitchcock interpretation of
Rebecca
on dvd. The subtitle
Learning To Long For God Alone
piqued my interest. This is a nonfiction (Spiritual Growth) that I am taking in small bites, so it will be sitting here for a little while.
I have started keeping a reading journal to help me remember what I have read as well as to record thoughts, quotes, etc. that may not make it to the blog. (Some are too personal and others are too boring! Ha!)
If you get a chance, head over to 5 Minutes for Books and see what others are reading. You can find great ideas, I know I did!