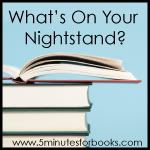 I seem to always be a day late for the 'What's On Your Nightstand' blogging carnival over at
5 Minutes for Books
. But, due to the weather, not today!
So, without further ado, here is what's on my nightstand this week:
Pretty dry stuff for the most part, huh? I apologize that it is not more exciting for you. I have been reading a lot of fiction lately and the non-fiction has been piling up. I have made a deal with myself that I will not buy any more 'fun' reading until I get some of this 'important' reading completed.
If you read my only other
'Nightstand' post
last August, then you know that this has been in my 'to read' pile for a LOOONG time. I finally opened it last night because I am beginning to feel overwhelmed by life...just in case you missed that fact in
Sunday's post
.
These two books are my attempt to get on top of my HR responsibilities at work. Not my favorite aspect, but a necessary evil of doing business.
What can I say about the following book except 'grew up with a younger sister, now have two teen aged boys at home'.
If you asked the girls, they would tell you that I had no boundary issues with them...but these boys are another can of worms entirely. I am at a loss most of the time and need the extra help that this book offers.
What I love about this book is that it breaks down not only healthy and unhealthy conflict...but how to deal with both reasonable and unreasonable people. Let's just say, I encounter 'unreasonable' people at times and leave it at that! :-)
And finally, the light at the end of the tunnel. My fun reading!
I picked up this book in January after reading the
review
at 5 Minutes for Books. I am looking forward to reading it...but I have to be 'in the mood' for a historical novel. So, it patiently awaits my arrival.
Lastly, this little jewel was recommended to me by a friend who loved the Chronicles of Narnia as much as I did. I mentioned to her that I was taking a slight reading break to allow the stories from Narnia to sink in. She praised this book as another of her favorites in the same vein and I am going to take her up on it as soon as I can make room for a little reading fun.
So, there you have what's on my nightstand this month. Hope you are enjoying a fun read or two yourself!